Hotel Írottkő
After waking up in our hotel, looking out the window, the romantic main square and the monumental city center of Kőszeg as well as the surrounding mountains unfold before your eyes; after a hearty breakfast with a delicious cappuccino on the panoramic terrace you can start your daily program:
-Sightseeing for two on the quiet streets of Kőszeg
-Bike or hike in the beautiful countryside of the Írottkő Nature Park
-A good book you've been planning to read for a long time
-Bath program in Bükfürdő, Lutzmannsburg, Rohonc
-Austrian trip to Vienna, Graz, Eisenstadt
-Castle tour in Leka or Stadtschlaining The ideal end of the day is a glass of wine and a delicious dinner in our hotel restaurant, in pleasant, warm weather in our frame room, under the starry sky. Relax and forget about the rushing world! Find peace and quiet again! Kőszeg, the picturesque, friendly small town offers you an unforgettable vacation.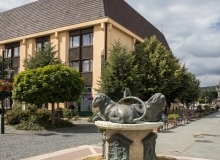 Hotel Írottkő
Cím: Fő tér 4.
Telefon: +36 94 360 373
Photos
Ajánlatkérés
Küldje el ajánlatkérését a lenti űrlapon keresztül, és rövidesen elküldjük ajánlatunkat!
Ne feledje: a legjobb árakat tőlünk kapja!
More information, comments: